Youth Action Teams (YATs) are formal groups of youth with at least one Adult Advisor that plan and implement peer-focused prevention and community service projects that positively impact their peers and/or their communities. YATs can be established in or affiliated with schools, community organizations, faith communities, businesses, agencies, civic groups, neighborhoods or anywhere that youth naturally congregate or are invited to participate. Georgia Teen Institute provides each YAT with ongoing training, staff support and technical assistance, service opportunities and ideas.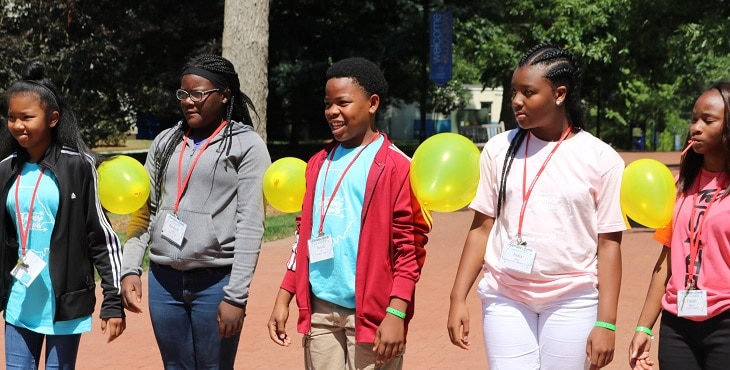 All YATs attend Georgia Teen Institute in June to learn more about their communities and plan a project that meets one of their community needs. While at Georgia Teen Institute, each team utilizes the Strategic Prevention Framework (SPF) to complete their Team Action Plan. Teams meet daily for team building, assessing local needs and strengths, and developing a project to implement in their communities. Team Meetings are facilitated by a trained staff member with the help of the team's Adult Advisor.
YATs follow the SPF model while at Georgia Teen Institute and are encouraged to utilize Environmental Prevention Strategies. Teams complete an assessment of their communities by reviewing the Georgia Department of Education's Georgia Student Health Survey and the Annie E. Casey Foundation KIDS Count data and identifying relevant community issues. YAT members then identify resources that their team may have available in their schools and communities related to their identified issues. Teams spend a majority of their Team Meeting time planning the project identified through the Assessment phase. In the Planning phase, YATs pick a project, create a goal statement, make a to-do list and determine a budget. Teams also determine an evaluation method for their project to address the Evaluation step of the SPF. Throughout the process, YAT members work to ensure that Cultural Competency and Sustainability are addressed. Once back in their communities, we expect that the Youth Action Teams will implement the projects they planned while at Georgia Teen Institute.
Throughout the year, YATs conduct at least six community service or peer-focused prevention projects, usually one per month. These projects are completed in addition to the monthly meetings each team holds. YATs also conduct at least one project each semester that is a peer-focused strategy related to underage drinking prevention. Every YAT is also asked to participate in Red Ribbon Week during October and plan a project or campaign in conjunction with Alcohol Awareness Month in April.
To view a list of our current Youth Action Teams, click here.