GUIDE, Inc.
Georgia Teen Institute, an initiative of Gwinnett United in Drug Education, Inc. (GUIDE), is a youth leadership program for Youth Action Teams throughout Georgia.
GUIDE, Inc. is a nonprofit community-based substance abuse prevention agency that has been serving Gwinnett County since 1986. GUIDE originated as a joint effort by the Gwinnett County Board of Education and the Gwinnett County Board of Commissioners to assure an on-going, concentrated and comprehensive approach to substance abuse prevention in Gwinnett. Since then, GUIDE's services have expanded to also include the metropolitan Atlanta region and the entire state of Georgia.
GUIDE's services, programs and major initiatives have evolved over time, based on current prevention research, local needs and available resources. A primary area of focus continues to be school-aged children and youth, although services are also provided for adults.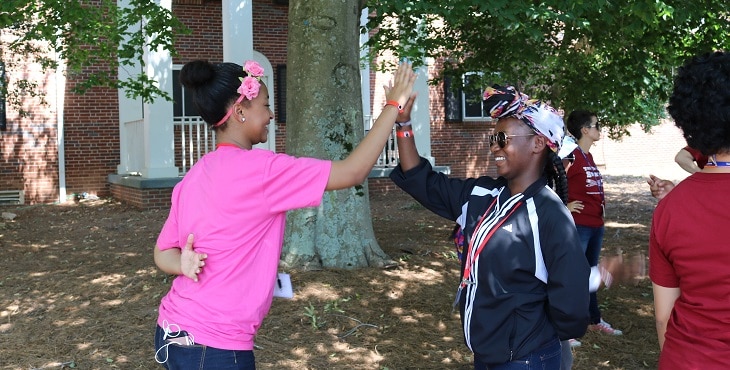 Georgia Teen Institute
Georgia Teen Institute is a youth leadership program for Youth Action Teams throughout Georgia that begins with a summer training program and continues with year-round support. Youth teams attend a four-day residential camp held at Oxford College to develop leadership skills and engage in the Strategic Prevention Framework planning process through workshops, Team Meetings and team building activities. The teams work to plan and implement peer-focused prevention and community service projects. GUIDE follows up throughout the year with additional training and technical assistance, networking meetings and monthly reports outlining teams' actions and activities.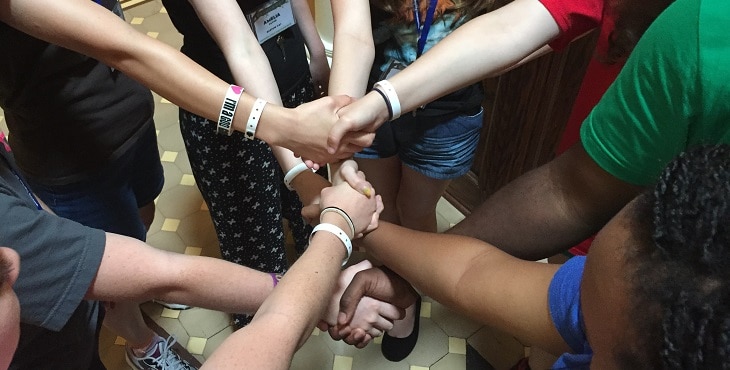 History
Georgia Teen Institute was founded in 1989 by Ari Russell and Terressa Anderson. That year, the program was held in North Georgia at the Tallulah Falls School. Approximately 80 Middle School students from the Gwinnett County area were in attendance. During the first year, the foundation was laid for all future Georgia Teen Institutes. Youth participated in an action planning process, learned about the importance of teambuilding and networking and gained tools for becoming leaders in their communities. The second Georgia Teen Institute was held at Hard Labor Creek State Park, a group camp site in Rutledge.
In 1991, Georgia Teen Institute moved to Oxford College of Emory University. This was also the first year that the program was offered to Youth Action Teams statewide and to high school students. Since then, Georgia Teen Institute has seen thousands of youth, adult advisors and volunteers become successful, inspirational and enthusiastic contributors to Georgia's communities. Georgia Teen Institute continues to stay true to the foundation laid in 1989.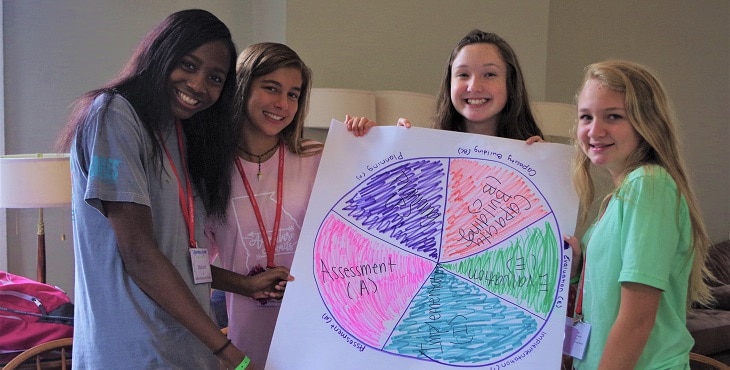 Mission
Philosophy
The philosophy of Georgia Teen Institute is set upon the following principles:
Teenagers are capable people who, with proper guidance and direction, become capable adults;
Potential problems with health, safety and wellness (such as alcohol and other drug use, crime, dropping out or motor vehicle crashes) can be reduced through appropriate prevention strategies. Research indicates that peer-led initiatives are particularly effective with the average youth population; and
Youth are important resources to their communities. They need to be given opportunities to contribute in meaningful ways.
With this in mind, our program can provide Georgia teens and their supporters with the skills, information and strategies they need to address community issues and develop appropriate courses of action.
Georgia Teen Institute seeks to reduce the frequency of underage alcohol use, tobacco and other drug use and other self-destructive behaviors by guiding students to realize their leadership potential, learn new skills and become empowered to create change in their schools and communities.
Georgia Teen Institute is dedicated to providing young people with opportunities to become strong leaders. We firmly believe that middle and high school students are not the leaders of tomorrow, but rather they are the leaders of today. These students know best what challenges exist in their schools and communities; they are the ones who walk through the hallways and down the streets each day. Accordingly, they must be the ones empowered to create change in their schools and communities.
Through the Georgia Teen Institute program, students learn to look at challenges not as roadblocks to be feared or ignored, but as opportunities to be embraced and overcome. Furthermore, students are given the chance to work in a climate that puts them in control with adults there as guides and advocates for their vision. Students leave Georgia Teen Institute with a sense of confidence, purpose and motivation that continues on throughout the school year and also throughout their lives.
Goal
The goal of Georgia Teen Institute is to provide education, training and motivation to middle and high school students and Adult Advisors in an effort to assist them in:
Developing or enhancing sound habilitative concepts and life skills;
Designing and implementing effective prevention initiatives which will have a positive impact on alcohol, tobacco and other drug use and other health and safety problems within their communities; and
Promoting peer-led prevention in school and community activities.
This goal is to be accomplished through:
Providing relevant information about alcohol, tobacco and other drug use and other high-risk behaviors;
Providing activities which develop and enhance positive concepts and life skills;
Providing experiences which increase the knowledge and appreciation of healthy "alternative activities";
Encouraging youth empowerment and mobilization through continued involvement in local and state prevention activities; and
Establishing a youth network for prevention in Georgia.