Support Georgia Teen Institute
GTI is an inspiring, motivational and meaningful leadership training program for middle and high school students with a focus on prevention. Teams of youth from all over the state of Georgia come together to learn how to plan and implement projects in their home communities related to alcohol, tobacco and other drug (ATOD) prevention; community engagement; and other pertinent issues by using the Strategic Prevention Framework. They also take part in fun, engaging workshops related to ATOD prevention, leadership and skill development; experience new and exciting team building activities; and meet like-minded peers from other parts of the state. Participants, youth and adults alike, leave GTI feeling empowered and ready to make a difference!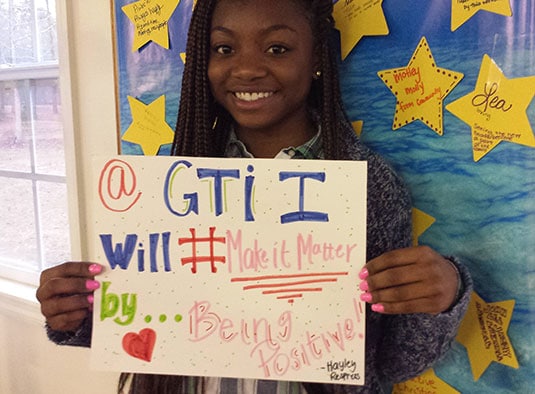 GTI is run by GUIDE, Inc., a 501(c)(3) non-profit. While GUIDE does receive some grant funding for GTI, we also depend on the generous financial support of individual donors, small businesses and corporate sponsors to help provide the essential prevention programs and activities to the youth we serve.
Donating is REALLY easy – simply CLICK HERE to securely donate online. It will give you the option to make a one-time donation or to have a specified amount automatically deducted on a recurring basis. Simply designate an amount when asked, and if you would like your donation credited to a specific staff member, add their name in the space provided for a dedication. All donations are tax deductible to the fullest extent of the law and are GREATLY appreciated. If you'd rather write a check, please mail it to GUIDE, Inc., PO Box 1922, Lawrenceville, GA 30046, Attn: Georgia Teen Institute.
Your support of the work that GUIDE and Georgia Teen Institute are doing really does make a difference. THANK YOU!
Donate Now